The experts at Thomas Stone & Materials can help you find the right product for your project, including top-quality soil, compost, mulch and more. We're an official distributor for New Earth, the San Antonio-based leader in sustainably produced soils, compost, mulch and more.
These soils are primarily used for planting turfgrass, creating garden beds and as all-purpose fillers. We also offer screened products for a finer, clump-free soil.
Mulch provides many benefits to the Texas garden. In addition to acting as a cover to preserve moisture and reduce soil evaporation, it reduces the need for watering and keeps root systems cooler in the summer and warmer in the winter. It's continuously breaking down in the garden, feeding the microbes in the soil. Mulch also reduces weeds and helps suppress diseases. Available in a variety of colors, pick the look you like best – whatever style you choose, your garden will thank you.
Certified compost for the maximum benefit to your landscape.
Compost is an essential part of a healthy landscape, providing a wide range of benefits to your lawn, plants and vegetables. Compost replenishes the earth and closes the nutrient loop that begins when harvested plants extract nutrients from the soil.
Compost adds organic matter to the soil, adding beneficial macro and micronutrients and providing many beneficial microbes to the soil. Millions of beneficial fungi (mycorrhizae) and bacteria in the compost break down organic matter and release nutrients into the soil. Compost promotes water retention, builds soil structure and provides aeration, while stabilizing pH.
As an official distributor for high-quality New Earth compost products, Thomas Stone & Materials is your one-stop compost shop.
New Earth compost products are tested and approved by the U.S. Composting Council's Seal of Testing Assurance Program (STA), which guarantees that our composts meet specific standards for quality, maturity and performance.
New Earth Premium Manure-based Compost is used mainly as a feeding agent for food gardens, flower beds and lawns.
This is a premium organic blend is a combination of animal manures, food/vegetable waste, liquid waste, and various wood wastes, which are limited to sawdust, green waste, and wood shavings.
This product is blended to the proper ratio of carbon to nitrogen and allowed to start the composting process. Through proper time and temperature intervals, the pile is flipped and composted until maturity is reached.
High in organic matter with good porosity and moisture retention, this is a natural soil amendment ideal for raised beds, flower beds, and general landscape planting. Simply mix 2″ into the current soil. When used as turf dressing, apply 1/4″ to 1/2″ evenly on top of your lawn. Landscaper's Compost by New Earth is STA Certified by the U.S. Compost Council Seal of Testing Assurance program, which guarantees that the compost meets high standards of quality, maturity, and performance. This is a highly sustainable product created by a process that meets the rigorous standards of both the EPA and TCEQ.
Landscaper's Compost is produced from biosolids extracted during the wastewater treatment process. These treated biosolids are then transported to our state-of-the-art composting facilities, where they are added to woodchips and sawdust as they enter the composting process.
After months of active composting, billions of microbes have transformed the biosolids into a nutrient-rich soil amendment. Landscaper's Compost restores carbon and nutrients to the land for the good of plants, people and our community.
Sand is a necessity in many landscaping projects. Thomas Stone & Materials has a variety of textures, looks and options for masonry, stucco, sandboxes, leveling-above ground swimming pools and any other landscaping project.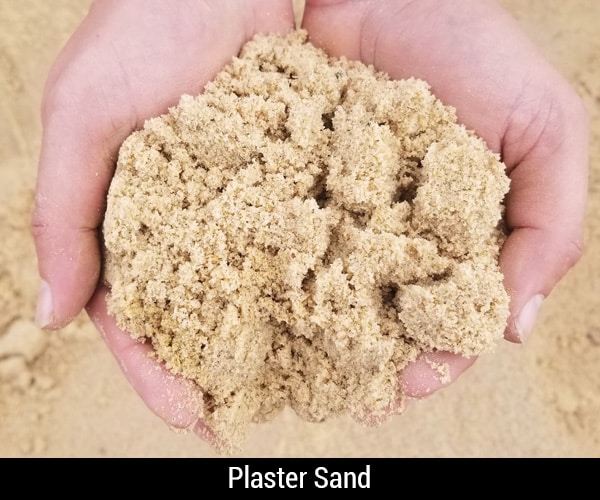 Missing – A1 Double Washed Sand, Sand & Gravel Premix, Athletic Field Red Dirt.
AGGREGATES & CRUSHED STONE
Aggregates and crushed stone have many uses in the landscape. Larger crushed stone is often used for backfill and as a sub-base before pouring concrete, or for hardscaping such as driveways or parking pads. Smaller, smoother types of crushed stone are also found in above-ground applications, such as landscape beds, walking paths, playgrounds or dog runs. The experts at Thomas Stone & Materials can help your find the right aggregate for your project.